---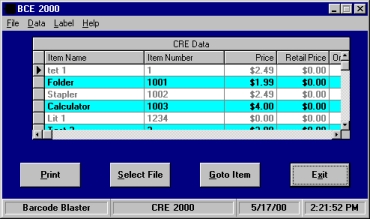 Bar coding your inventory is easier than every with Bar Code Express. Now you can take any item from Cash Register Express and print a bar code.

Bar Code Express reads directly from your Cash Register Express database, imports your inventory information and print bar codes to any laser printer or Bar Code Blaster.

Once the inventory items are in BCE 2003, you can select different labels and even design the label if you are printing to a laser printer. BCE 2003 will help you automate your store!




Features and Benefits
Easy Bar Code Design
Takes Data Directly from BCE 2003
Go To Item for Quick Item Skipping
Choose Any Number of Bar Codes
Supports Bar Code Blaster
Prints to Hang Tags
Prints to InkJet or LaserJet Printers
Supports Standard Avery Labels
Fast Mark/Unmark all to Print
Exports to Labels Unlimited
Imports from the Genral Store
Create your Own Bar Codes
Prints to Adhesive & Butterfly Labels
Easy Navigation Grid
© 2004 Solid Rock Solutions (SRS). All Rights Reserved.
™ SRS logo and name Solid Rock Solutions are trademarks of Solid Rock Solutions ™Si and Solid Innovation " are trademarks of Solid Innovation Technologies, ProfitPoint is trademark of Turning Point Systems, CRE and Cash Register Express are trademarks of PC America. , Inc. Used under license agreement with permission.