---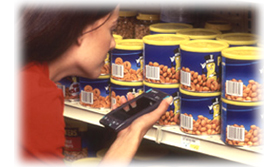 Pocket Inventory does just exactly that! With the Symbol SPT-1550 and Pocket Inventory you will never have to worry about long lists of inventory on your clipboard again. Simply scan an item "on the floor" and Pocket Inventory will keep a count. When you are done, Pocket Inventory will transmit your entire count to your computer.

You may also make quick changes to cost, price, description to an existing inventory list, as well. With a portable bar code printer, like the Code Ranger Plus from Cognitive Solutions, you can even print Bar Codes from your Palm Pilot!



Features and Benefits
Synchronizes w/Track Express
Edit Inventory information on the fly
Print Bar Codes on the fly
Compatible with MS Access and dBase
Simple point and scan operation
Auto-counts inventory
Manual item and quantity entry
Synchronizes with HotSync
Optional Code Ranger Plus
Easy Record Editing
Built in Barcode Scanning
Stores Unlimited Items
Sends Inventory Count to PC
Stores Location Information
Tracks Department/Location
Edit Inventory costs and prices
SpeedScan for faster barcode scans
Flexible Bar Code Types
© 2004 Solid Rock Solutions (SRS). All Rights Reserved.
™ SRS logo and name Solid Rock Solutions are trademarks of Solid Rock Solutions ™Si and Solid Innovation " are trademarks of Solid Innovation Technologies, ProfitPoint is trademark of Turning Point Systems, CRE and Cash Register Express are trademarks of PC America. , Inc. Used under license agreement with permission.